We canceled our long weekend that we had planned because the weather where we were heading was awful.
24 hours in Fontainebleau
Instead, we did a quick 24 hours to nearby Fontainebleau, which has a chateau (don't all villages in France?) and a great big forest.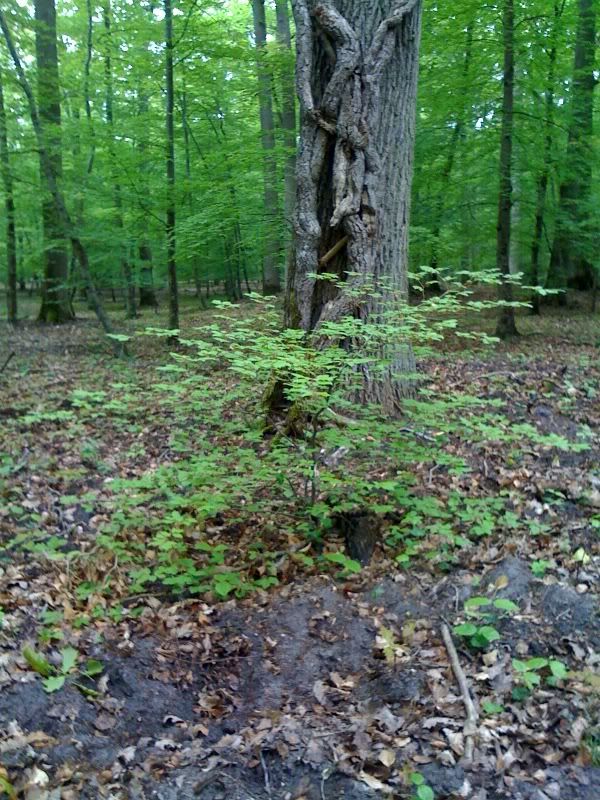 We went for the Forest, and stayed at a nice hotel just a few minutes from the forest edge.  We walked for several hours yesterday and a scant 1 hour today, but it was nice to be in nature.  I've previously written that hiking is one of the 100+ Things That Make Me Happy (number 18!) so I was really glad to get back to it, at a very beginner's pace & terrain.
The hotel where we stayed had a decent restaurant – nothing extraordinary, but solid classic French food.  I managed to navigate the menu for healthy options without too much difficulty.
Reporting on my food detours
I did take a few small detours off the straight and narrow, and documented them in photos as promised in my Spring Focus goals.  I did okay (but not great) on water.  And no scale, so no weigh-in.
I had some bread : not a lot — the missing part in this photo is all I ate – about 20% or so ..
I had some wine.  And champagne.  I had just a few sips of the wine, but probably 1/3 of the bottle of champagne. I was more than a little loopy…
I didn't order dessert, but I did eat this forkful, another raspberry and half of one of those chocolates you see in the background.
All told, I think I did pretty well managing the food landmines all around.
Breakfast
At breakfast I was greeted by a huge bowl of strawberries that grabbed my eye before I saw the croissants and breads and all the other stuff — so I made good choices, no off-track things to report in photos (which pleased my husband, as he cringes when the camera comes out!)
——————————
Spring Focus Update :
It's not to late for you to join – just comment here.
Weight tracking will be collected on Monday : you can email it to me or leave it in my comments.  2 numbers please : how much you lost this past week (whenever you define your weekly weigh in date) & how much you've lost total since the start of Spring Focus.  I'll post the COLLECTIVE result on Tuesday.  No leaderboards, no competition – everyone is pulling for everyone, and themselves!