Last night I made this :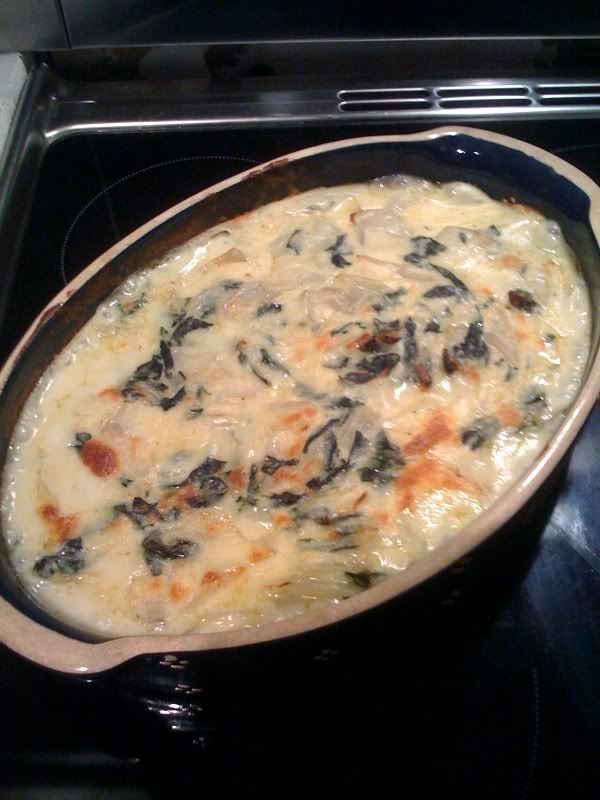 It was delicious and absolutely what I wanted.  It was full of veggies and completely homemade. 
It was made with milk, butter and cheese.
It was dinner (along w some steamed plain broccoli).
I've been working on a big recipe organisation project, plus looking at recipes as I finalize my Thanksgiving-on-Saturday menu.  I found the swiss chard at the market on Sunday and added Swiss Chard to the things I was looking up for recipes anyway. 
When I found this recipe I was sold – in particular because I know the French love their veggies in gratins, and my husband would desperately love for me to give veggies that treatment at home.  Since he wasn't coming home until late I decided I could play with little risk and set off for my rather complex cooking task.
I thoroughly enjoyed spending over an hour preparing one dish (it's supposed to be a side dish).  It was really good and maybe if I knew the recipe by heart I could get the time down by half, but who on earth has time for that kind of time for ONE side dish?  Well, I did yesterday.
It was DELICIOUS.  I mean fabulous, awesome, incredible.  I had to stop myself from eating more and more but I did stop, knowing it was too full of calories to go hog wild, and yet it was rich enough that I felt really satisfied with what I did eat.
I skipped eating a lot of other things to eat this – and exercised the control muscle pretty well, and ended the day with a really healthy dose of extra veggies and within normal calorie bounds as well.