I made a strange soup the other day.  For once an experiment that went well (I'm rarely inspired to blog about the failures!).
As I mentioned Monday, I started back on a very focused low carb eating plan again this week, hoping to lose some of the 5 pounds I put on since November & get what looks like a long stall plateau moving down again.  I start traveling next week, so I've had a kind of 'detox' mentality that assumes that this week it was much easier to get into the weight loss swing again than if I waited any longer.
I bought a few things to keep me on track, but one of the things I decided to do was cut back carbs to very low levels for a week or so, and that meant re-thinking my veggies.  I bought watercress because I know green leafy veggies are a good choice, and I've always liked the peppery tang of them.  Of course, my mom's salad recipe uses sugar in the dressing, so I went online to figure out what else to do with my bounty.  I found a decent-looking cream of watercress soup & decided to try that, but then got intrigued by several Asian watercress-and-meat salads that also used ginger.  I have a ton of fresh ginger from my DH's over-enthusiasm (when recovering from my surgery in November I asked for one piece from the market and he bought… one KILO which 2.2 pounds!!! I try to put ginger on anything these days).  I also had organic ground beef at home.
I fried up the beef with some ginger & garlic and put a few leaves of the watercress on a plate to make a variation of the Asian salads I'd found online.  Then I made soup. It's been really cold here this week and I love soups in general (and in Winter in particular) so I spur-of-the-moment decided to do a soup version of the watercress beef soup and added more ginger to my chicken broth, then added the watercress, mixed it with my hand mixer, added some cream & then poured in the rest of the ground beef.  I barely needed to adjust the flavors — it's great!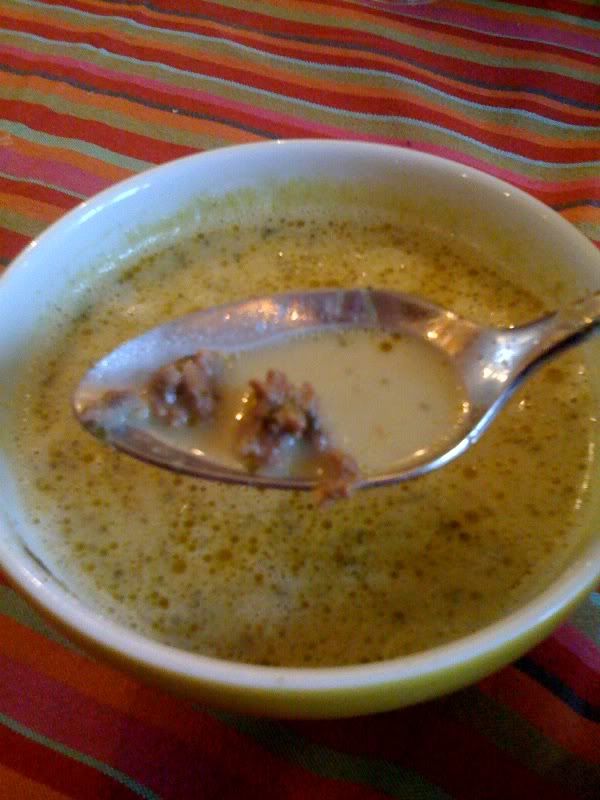 It's an unexpected taste, vaguely Asian (the ginger), quite peppery (watercress) & with some substance (the cream & beef).  It's quite thin since I don't use any thickeners or potatoes but it's been nice to eat this all week.
I'm digging into the last bowl now… mmmm