Well, this weekend I will try to take advantage of as much fun time as I can before going into the hospital on Monday evening.  Most everything i wanted to get done & wrapped up has been done (one more thing to do, might or might not get done).
This weekend should be fun – fancy restaurant w hubby tonight (just the 2 of us, thank goodness), Saturday : massage, mom arrives, opera & then out to dinner w friends.  Sunday : brunch at our house w the whole family (including my sister & her family who are still in Paris one more week, but mercifully left my house this morning), theatre in the evening.  Monday have a work thing that will keep my mind occupied & out of the worry cycle for a good chunk of the day before I come home to get ready for the hospital.  Surgery is first thing Tuesday morning.
I am surprised that I don't have the desire to become a crazy carb-inhaling person these next few days, but I don't.  I'll probably slip a bit off the straight and narrow tonight at dinner, but otherwise should be fine.
I feel ready and okay for this.  It feels like it's going to be fine, I'm going to come out of the surgery cancer free and in good shape.
Let's all keep our fingers crossed that this feeling becomes my reality!
———–
I think I had mentioned on this blog that I've spent a good amount of time these past few months working on a bathroom art project (it's a very small, cramped powder room).  I finally finished it last night – here are some pics :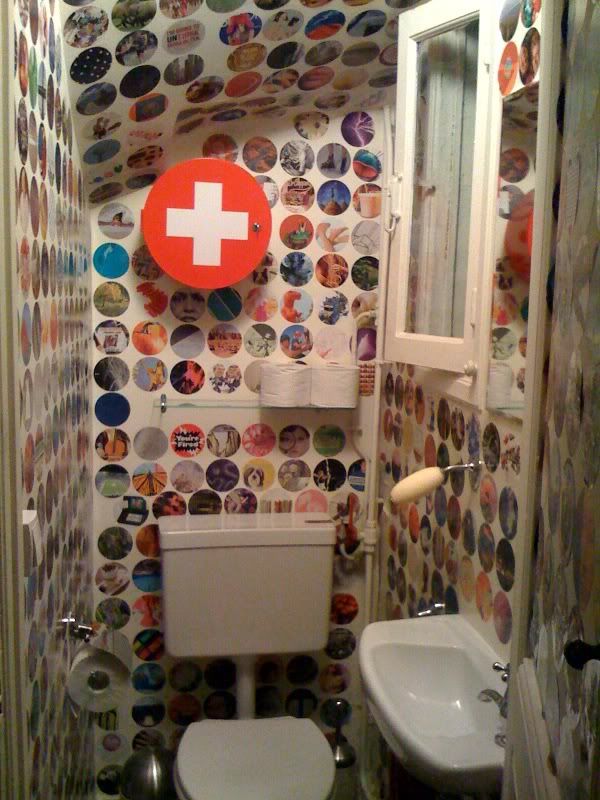 Detail of the circles (cut out of magazines while I recovered from the first surgery in June) :